It's winter and I have the binnacle off the VSTAR as the first part of the tear down. Should have pictures as I go. I'm excited to start tearing off paint and getting that dent sorted.
Meanwhile, I also need to get Lindsay's old CT70 running. It's just about all complete but the wiring needs work and I think I need to clean carbs and the fuel line after years of abuse.
Once it is up and running, I'll be looking for a dirt bike of my own. I don't have one and I don't plan to start brand new. I'm not jumping or racing, but I would like something to play in the mud with and to go up logging roads exploring.
Reading the ADV sites, a couple of bikes have my interest even though I'm not a dirt bike guy. Here's the buck list -- or my Craigslist Wish List:
TW200
: Yamaha is still making these -- and have been since I was in high school -- virtually unchanged. They are trail thumpers that are easy to ride, impossible to kill and reportedly very fun to have around. I'm tempted to sell El Burro for a pair of these and get Amy riding with me.
The XL Hondas look just modern enough without looking like a pointy-plastic Asian appliance. The XL600 R would be a great Dual sport, especially if I could find one to restore in the Red-White-Blue of the Paris-Dakar trim. The Red Engines Made 'Em Better. According to the forum on ADVRider, they will keep up with modern 650s for the most part and are actually lighter than the Hondas that came after. I think they'd be a blast on the logging roads or out in the fields.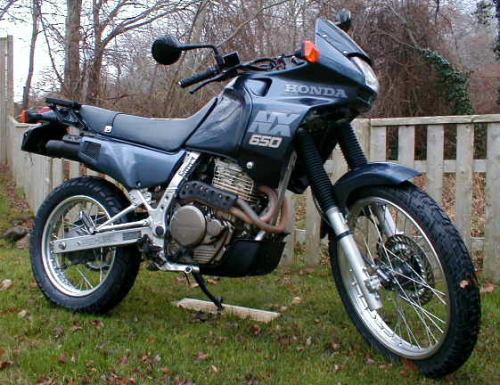 NX 250 - 650
These days Dominators are getting chopped up into
streetfighters all over the world
. Yet, I love their fairing up front and trail bike stance. I think it would be great to have one of these. In fact I almost went south into Oregon to buy an NX250 the week I bought El Burro.
Rare. Beautiful. This was the motorcycle in the Honda shop when I was a teenager that called my name but I could never take home. They only imported them to the US for a few years, but sold them like hotcakes around the world. Would love to get my hands on one for long range adventure touring.